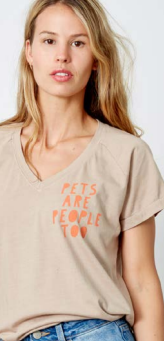 "Pets Are People Too" Tee
State the obvious about our canine companions with this essential v-neck tee for every day wear. Our relaxed fit v-neck is a favorite for a reason! We made sure to make the v-neck the perfect depth, not too deep or too short! 
Crafted in everyone's favorite fabric and featuring our "Pets are people too" mantra  (duh!) you're going to LOVE this top! This whimsical tee runs true to size.